Computational fluid dynamics helps our customers to solve design challenges through advanced CFD tools.
Our team of CAE experts assist your design teams to improve the design and enhance your component performance, which results in achieving maximum ROIs by fabricating flawless final products. We provide end to end solution of advanced CFD simulation to recognize the particle behaviour and fluid flow during process and steady state conditions.
Our team of CFD experts specializes in dynamics of fluid study and working on different CFD platforms like ANSYS Fluent, ANSYS CFX, OpenFOAM, etc. These tools help in simulating for advanced turbulence, combustion, heat transfer, multi-phase flow, and fluid-structure simulation.
Develop your design in compliance with industry design standards and highest quality designs for critical and expensive equipment with the help of our CFD experts.
CFD Services we offer:
Aerodynamic Analysis
Combustion and Heat Transfer Analysis
Multiphase Flow Analysis
Fluid Structural Interaction
Incompressible & compressible fluid flow
Steady-state & transient flows
Laminar & turbulent flows
Rotating Industrial Machinery
Design Optimization Studies for various Flow Path profiles
Industries we cater:
Automotive OEMs & Auto Ancillaries
Aerospace
Process / Oil & Gas
Manufacturing
Medical Device
Heavy Engineering
Construction
Power
Transport
Contact us for CFD Analysis requirements.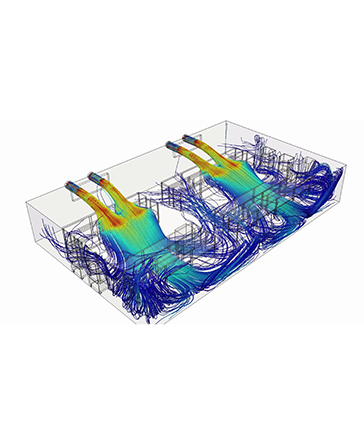 -